UNITY IN DIVERSITY
Ganesh Utsav is the biggest public festival celebrated in India especially in the state of Maharashtra. People from all religions, castes, regions unite together to celebrate this festival. Lord Ganesha is one of the most worshipped Hindu gods. Son of Lord Shiva and Parvati, Ganesha is an elephant-faced God who is believed to be the carrier of good luck. Ganesha's Birthday is celebrated with a 10-day long festival after which he is immersed in water, a ritual symbolizing Ganesha's homeward journey. 

HISTORY : HOW IT ALL BEGAN
Historically, Ganesh Chaturthi has been celebrated since the era of Chattrapati Shivaji Maharaj. Back then it was a homely affair as the British forbid people to gather in large groups except for religious reasons. In 1983 Bal Gangadhar Tilak known as Lokmanya Tilak realized that Ganpati was worshipped by all across India, so he started the Sarvajanik Ganesh Utsav, to bring India together to Fight the British. Lord Ganesha, the removal of obstacles not only brought divinity to the Indian Independence struggle but also inculcated a sense of patriotism in the people.
GANPATI BIRTH : ELEPHANT HEADED DEITY
Parvati , wife of Lord Shiva took the turmeric paste to carve an idol of a boy and breathed life into him. She told him to guard the door till she finishes her bath. When Lord Shiva, her husband came home and attempted to enter the door, the little boy refused. Lord Shiva got angry and chopped off his head. Parvati was inconsolable but managed to tell Lord Shiva that the boy was their son. Lord Shiva decided to fix it. He went out and hunted the first animal he saw, the elephant, and brought back its head to replace it. That is how Ganesha has an elephant head. 
Ganesha has 108 names, Vighnaharta, Gajanana,Lambodara,Vinayaka,Ekdant just to name a few. He is called the one who takes away all the problems and pain, he is called the remover of all obstacles and suffering. 
Every Hindu Deity has an animal, bird, or mythical character as mount /Vahana. Lord Ganesha has Mooshak, the mouse as his Vahana on his feet. Not only Ganesha but his Mooshak is also worshipped. 
BIGGEST CELEBRATIONS : MUMBAI GANPATI FEVER
From very small idols at home,in buildings, in streets to very large idols in Pandals, Ganesh Utsav is celebrated on a very large scale in Mumbai. Every Iconic Ganpati Pandal is special and unique in its way. There is so much enthusiasm and energy in people to have a glimpse of their favorite Ganesh Murtis. The crowd, rush, and heat cannot deter the devotees from their destination.Ganpati idols in Mumbai showcase the best skills of artisans who work for almost a year to present marvelous craftsmanship. They are the pride of these artists and their respective Ganesh Mandals in Mumbai.
The festive season is all about fun. But fun with a little learning is even better. I will be sharing 5 easy ways that you can DIY with your kids and make this Ganpati festival the most memorable one. Celebrate Ganpati Festival uniquely and in a special way at home.
MAKING GANPATI IDOL
Art is the best way to teach your little ones to use their tiny hands and fingers. It can be as simple as rolling a ball and making dough. Let their hands get messy.I promise you as adults you will enjoy it too. Here are many ways in which you could make your own special, unique Eco- Friendly Ganpati Idol. They are not only cost-effective but most importantly environment friendly as they are biodegradable. Decorate it the way you like with Lentils or food color. Decorate a table or stool to place the Idol and offer Prasad. Do Aarti and Pooja each day and pray for the well being of everyone.
DIY Eco-friendly Ganpati Idol Making Videos
PRASAD – MODAK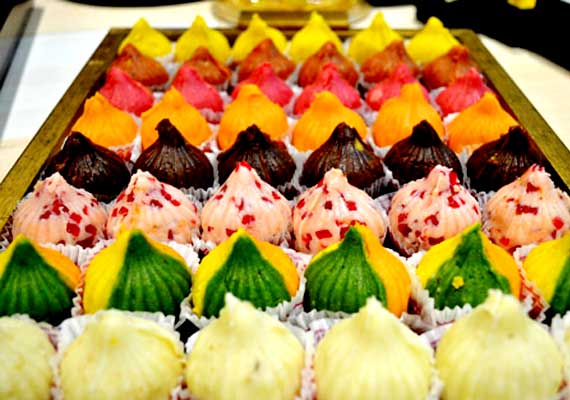 Festivals are incomplete without Mithai and Bappa's celebrations are incomplete without Modak. They are very special offerings to Lord Ganesha as Modaks are his favorite. There are various ways to make modaks but who wouldn't like Modaks with a twist. Make it with your kids and enjoy.
STORIES FOR KIDS
You can narrate stories about Bappa and have a small quiz competition in the end. It will help enhance their knowledge and the Quiz will make it exciting for them to listen carefully. You can give them a Modak as a reward. As a Bonus, you can let them watch these beautiful short stories and movies.
Short Stories and Movie links
GANPATI FACE MASKS
It would be so good to see little elephants running around the house right. Wait a minute did I say Little Elephants. That's right, I am talking about kids dressed like Ganpati Bappa. Make some cute elephant face masks with your kids. Kids will adore these DIY craft ideas and make them look like little elephants …. Don't forget to take their Pics…
ART AND CRAFT IDEAS
Transforming basic supplies like paper, and glue into something completely unique and colorful is nothing short of magic. Art and craft in the the best ways to cultivate creativity in you and your kids. May it be simple as Drawing and Coloring or making it more artistic and decorative using Origami or Lentil art.Let the hidden talent and the art in you going.
GANPATI VISARJAN AT HOME
Ganpati Visarjan is the last and the hard part of this festival. Ganpati Bappa comes for a few days but has to head back home to his parents. With a heavy heart and a smile on our face, we have to bid adieu to our Lord by thanking him for his blessings and request him to come back soon next year.
Eco-friendly Ganpati visarjan is very easy and can be done at home with a bucket of water and are very environment friendly.
Eco-friendly Ganpati made with Sadhu Clay can be used for planting post Visarjan – https://www.youtube.com/watch?v=8uM-tkSLAnA
The flour/atta Ganpati Bappa can become food for the fishes in the lake.
Chocolate Ganpati can be turned into Chocolate Milk for kids. You can distribute it to the less privileged kids near you. Always be good to the environment and to the people around.